Raum für

Familien
Seien Sie unser Gast! Fühlen Sie sich allein, zu zweit oder als Familie ganz zuhause in unseren individuell und liebevoll eigenrichteten Wohnungen. Gönnen Sie sich eine Auszeit, leben Sie ganz nach Lust und Laune in den Tag hinein oder widmen Sie sich ganz in Ruhe ihrem Projekt, Ihrem Buch, der Zeitung oder einem neuen Rezept. Kochen Sie mit regionalen Produkten in Ihrer Küche oder gemeinsam in der Guthausküche. Die Kinder toben im großen Gutsgarten, spielen mit dem Spielzeug aus dem Bibliotheksraum oder entdecken das Dorf.
Rent a bike
For large and small bike tours we can rent you just the right bike. In the hills of Mecklenburg Switzerland many (even those under 40) are avid e-bike riders, especially if it is going to be a somewhat longer route, such as a trip through the forest to Salem at Kummerower See. But we also have comfortable touring bikes, racing bikes, mountain bikes, children's bikes and a bike trailer for two kids (Chariot) which we are happy to rent you.
The Great Hall
Sometimes it doesn't take much for a lot to happen: Our Great Hall only contains the essentials so that you can set up the room just as you need it. Elegant oak parquet flooring, a projector on the ceiling, roll-out screen – the rest can be freely arranged on 70 m².
For events with dancing we roll large speakers into the hall, for conferences we can arrange the chairs and tables as needed. We can also set up a circle of chairs or even yoga mats.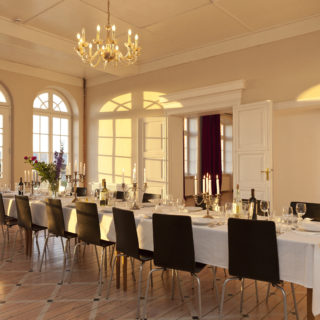 The Foyer
Our foyer is the entrance area of the manor. And as such, it is the hub of the house. This beautiful large room with its huge windows is often used as a central meeting point. Sometimes it is used for family celebrations, where we can set a table for up to 50 people. This works especially well if you want to use the Great Hall for dancing.
The windows at the front of the foyer offer a beautiful, broad view over the plains.
Our kitchen
There are many kitchens in the manor – but this one is the heart of the house. Whether for breakfast or a cooking event in the evening: the manor house kitchen can handle it all.
A gas stove with six flames and, of course, a large coffee machine, teapots and juice extractor – the most important appliances and tools are all available.
Hiding places
In our park everyone is guaranteed to find a favourite corner – but not every favourite corner is easy to find! Lose yourself in 10,000 square meters of park-like garden with beautiful old trees, fruit trees, terraces and a boules court.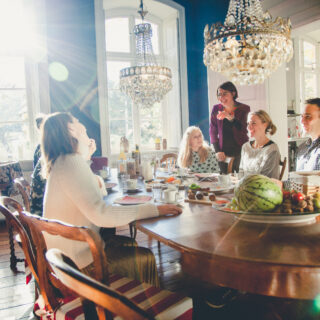 The Blue Salon
The Blue Salon connects the manor house kitchen and the Great Hall and offers comfortable seating for ten people at the table. Guests who order breakfast like to eat it here – unless of course the sun is shining, in which case we usually take our trays out into the garden.
The Blue Salon also has a fireplace, so cosy autumn evenings or a warm place to get comfortable on stormy days in February are guaranteed.
Organic farm box
Order an organic farm box with all the fresh and delicious things the region has to offer this season and prepare your own personal Mecklenburg menu in your own kitchen or in the kitchen of the manor house.
Pond to plate
Fresh trout, just the way you like it: Either akready gutted and cleaned in your refrigerator or still in the pond for you to catch yourself.
A walk with alpacas
Some alpacas are living in Pohnstorf and you can walk with them across the meadows and fields. The tour lasts two hours and is suitable for young and old.
Adults 20 €, children 10 €, families 50 €, groups 180 €.
Marco Wenzlaff: +49 (0) 381 / 87 72 97 59
Breakfast buffet
We can arrange breakfast in our main manor kitchen. You can enjoy breakfast buffet in our blue salon or you can enjoy breakfast in your room. In the garden you will find many sitting options for a breakfast in the nature.
It is important to us to use local vegetables, eggs and meat.
LandSelection
Hier beginnt die schönste Zeit des Jahres – Ihr Urlaub mit Seele. Deshalb sind uns die Werte von LandSelection sehr wichtig: Passion, Einzigartigkeit, Bildung und Qualität.
▶ Passion 
Wir sind Gastgeber mit Herz. Das Gutshaus ist in Familienhand. Das Gebäude erzählt Geschichten. Seite an Seite mit neuen Ideen und Entwicklung.
Die Ruhe und Natur, das Abschalten und frei sein, das ist Gut Pohnstorf und dieses Gefühl möchten wir unseren Gästen weitergeben.
 ▶ Einzigartigkeit
Natürlich merkt man gleich, dass Pohnstorf ein schönes Fleckchen Erde in einer weitläufigen und großzügigen Landschaft ist. Hier ist Platz. Aber das Dorf und das Haus bieten viel mehr, als man auf den ersten Blick erkennt. Das Haus ist durch die Anhöhe das höchste Gutshaus in ganz Mecklenburgs. Das Haus ist umgeben von Feldern, Wäldern und Seen. Gleich hinter dem Gutshaus ist ein Schwimmteich in Herzform. Mitten im Naturgebiet der Mecklenburgischen Schweiz thront das                                                                                Gutshaus auf einem Hügel, dem Hardtberg. Wir sind schwer zu finden, aber auch                                                                            schwer zu vergessen.
 ▶ Bildung
Uns ist die Nähe zur Landwirtschaft wichtig, da die Vorgeschichte des Gutshauses auf ein Rittergut zurückgeht, das in der Landwirtschaft verankert war. Hier hat das Huhn zu tun, damit das Frühstücksei auf dem Tisch steht. Hier werden wir erinnert, dass die Kuh für frische Milch gemelkt werden muss. Die jungen Kälbchen kennen wir aus dem benachbarten Kuhstall. Hier findet das Leben vor der Tür statt. Kinder entdecken die Tiere in der Umgebung und spielen draußen auf den Feldern. Und Eltern sind glücklich, weil die Kinder zufrieden spielen. Unsere Kooperationspartner für frische Produkte ist der Milchhof in Alt Sührkow. Wir empfehlen deren Kuh-Safari, für noch mehr Nähe zu den Tieren im Dorf:  Hier klicken.
▶ Qualität
Qualität ist uns ein wichtiges Anliegen, von der Gastfreundlichkeit bis hin zu regionalen Lebensmitteln. Angefangen von der Einrichtung des Hauses, bunt wie das Leben und mit Liebe zum Detail. Eine Mischung  aus alt und neu. So treffen antike Möbel und altes Fachwerk auf Designerlampen. Das Haus ist ein Prozess und wir sind stets in der Entwicklung. Das Thema Nachhaltigkeit ist uns von besonderer Bedeutung. Bei der Übernahme im Jahr 2018 haben wir vier E-Ladesäulen aufgestellt. Zudem können sich unsere Gäste unsere Fahrräder und E-Bikes für einen Ausflug, aber auch zum Einkaufen ausleihen. Wir bieten unseren E-Shuttle-Service vom Bahnhof an, damit Gäste CO2 frei mit der Bahn anreisen können. Auf dem Dach gibt es eine Solarthermie, die die Erwärmung unseres Wassers unterstützt. Wir kaufen ausschließlich regionale Produkte und arbeiten mit lokalen Unternehmen und Handwerkern zusammen. Zudem unterstützen wir die Region, indem bspw. ein benachbarter Künstler unser Artist in Residence ist und unsere Wände mit moderner Kunst füllt.
LandSelection