Raum für Retreats
Viel Raum für Ruhe und Stille. Nutzen Sie unseren Ort in der Natur für eine Auszeit in der Mecklenburgischen Schweiz.
Planen Sie ein Retreat? Der große Saal bietet sich perfekt für Yoga-Einheiten und der Blaue Salon für das gemeinsame Abendessen, welches zusammen in der anliegenden Gutsküche zubereitet werden kann.
Als Rückzugsort bieten sich die Zimmer und der große Gutsgarten mit einer Fläche von 10.000 m2 
Rent a bike
For large and small bike tours we can rent you just the right bike. In the hills of Mecklenburg Switzerland many (even those under 40) are avid e-bike riders, especially if it is going to be a somewhat longer route, such as a trip through the forest to Salem at Kummerower See. But we also have comfortable touring bikes, racing bikes, mountain bikes, children's bikes and a bike trailer for two kids (Chariot) which we are happy to rent you.
The Great Hall
Sometimes it doesn't take much for a lot to happen: Our Great Hall only contains the essentials so that you can set up the room just as you need it. Elegant oak parquet flooring, a projector on the ceiling, roll-out screen – the rest can be freely arranged on 70 m².
For events with dancing we roll large speakers into the hall, for conferences we can arrange the chairs and tables as needed. We can also set up a circle of chairs or even yoga mats.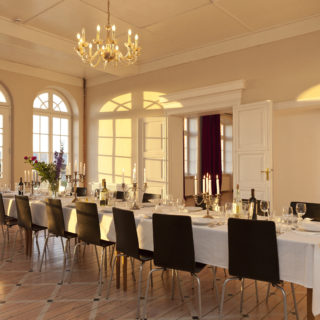 The Foyer
Our foyer is the entrance area of the manor. And as such, it is the hub of the house. This beautiful large room with its huge windows is often used as a central meeting point. Sometimes it is used for family celebrations, where we can set a table for up to 50 people. This works especially well if you want to use the Great Hall for dancing.
The windows at the front of the foyer offer a beautiful, broad view over the plains.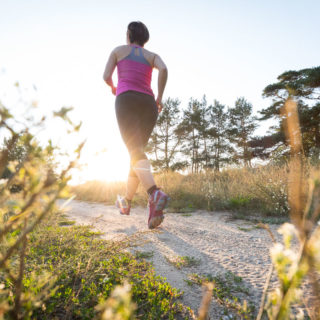 Run well
There are a variety of jogging routes that start directly at the manor and either cross through the meadows and woods or follow farm paths.
Fabian's favorite route goes up about 210 meters over 10 km and offers a variety of beautiful views. You can find it here (including GPX and TCX).
Kamila's favorite route goes up about 90 meters over 5 km and runs through the forest and between the fields. You can find it here (including GPX and TCX).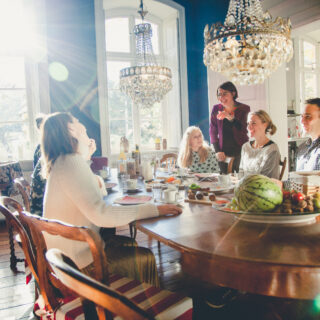 The Blue Salon
The Blue Salon connects the manor house kitchen and the Great Hall and offers comfortable seating for ten people at the table. Guests who order breakfast like to eat it here – unless of course the sun is shining, in which case we usually take our trays out into the garden.
The Blue Salon also has a fireplace, so cosy autumn evenings or a warm place to get comfortable on stormy days in February are guaranteed.
Living well with art
The art of living – for us this clearly includes art. We are honored  that the artist Lothar Oertel feels connected to us and the house. We are proud that his works decorate our walls and that we are able to welcome him from time to time for workshops for guests of all ages.

Rest and refuel
The expanse of the surrounding nature, the spacious and quiet rooms make the estate the perfect place for a relaxing break. Visit us for an extended weekend at Gut Pohnstorf. We cooperate with a yoga teacher and a chef and regularly offer weekends where you can treat yourself to some self-care: with two Vinyasa Yoga sessions a day, a vegetarian cooking class and time connecting with nature.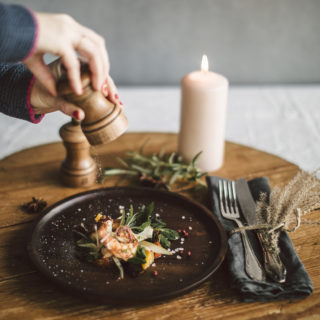 Catering
We are happy to recommend regional catering, which we know and love. So Bluhm's Delikat cooks with seasonal products and creative hand for occasions such as weddings, family celebrations and corporate events.
Breakfast buffet
We can arrange breakfast in our main manor kitchen. You can enjoy breakfast buffet in our blue salon or you can enjoy breakfast in your room. In the garden you will find many sitting options for a breakfast in the nature.
It is important to us to use local vegetables, eggs and meat.