Space for

Companies
Sometimes it takes a change of scenery to uncover new perspectives, spark new ideas or find a new dynamic. Sometimes it takes a lot of space to break through established patterns of thinking. Sometimes it takes a new setting to rediscover yourself as a team.
Gut Pohnstorf offers large common rooms as well as smaller rooms for breakout sessions. Work all together or in smaller groups in the garden, by the lake or in the Blue Salon. Reflect on your results in the evening by the fireplace or take some time for yourself and your team to play golf, ride a bike, go paddling or fishing together.
Our facilities
Having worked for many years as managers in law firms, companies and trade associations, we know what is important and can help you organize your workshop, seminar or team event:
Professional technical equipment: WLAN, projector, flipchart, pinboard
Single rooms are available for up to 18 people
Organization of team events
Organization of regionally sourced catering
Cook together in the spacious manor house kitchen
Work well
A team is like a jigsaw puzzle – every piece is essential! From team events to innovation workshops, from seminars to intimate congresses – team-building needs space for creativity, for unconventional thoughts, for focus and concentration. We know from our "first careers" just how much the environment shapes our thoughts and attitudes. And we do everything to ensure that you can work well during your time at Gut Pohnstorf.
The Great Hall
Sometimes it doesn't take much for a lot to happen: Our Great Hall only contains the essentials so that you can set up the room just as you need it. Elegant oak parquet flooring, a projector on the ceiling, roll-out screen – the rest can be freely arranged on 70 m².
For events with dancing we roll large speakers into the hall, for conferences we can arrange the chairs and tables as needed. We can also set up a circle of chairs or even yoga mats.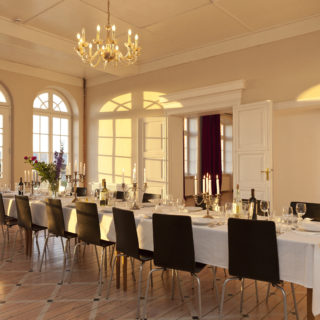 The Foyer
Our foyer is the entrance area of the manor. And as such, it is the hub of the house. This beautiful large room with its huge windows is often used as a central meeting point. Sometimes it is used for family celebrations, where we can set a table for up to 50 people. This works especially well if you want to use the Great Hall for dancing.
The windows at the front of the foyer offer a beautiful, broad view over the plains.
Our kitchen
There are many kitchens in the manor – but this one is the heart of the house. Whether for breakfast or a cooking event in the evening: the manor house kitchen can handle it all.
A gas stove with six flames and, of course, a large coffee machine, teapots and juice extractor – the most important appliances and tools are all available.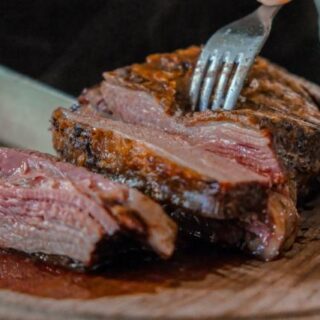 Delicious game!
Cook, dine and enjoy with your colleagues or with friends. Together with at least five other guests you can prepare a three-course menu based on the theme "Game cuisine, pan-fried and braised game". Robert Bluhm, the chef de cuisine at "Fischers Küche" in Waren an der Müritz will be your guide.
Rent a bike
For large and small bike tours we can rent you just the right bike. In the hills of Mecklenburg Switzerland many (even those under 40) are avid e-bike riders, especially if it is going to be a somewhat longer route, such as a trip through the forest to Salem at Kummerower See. But we also have comfortable touring bikes, racing bikes, mountain bikes, children's bikes and a bike trailer for two kids (Chariot) which we are happy to rent you.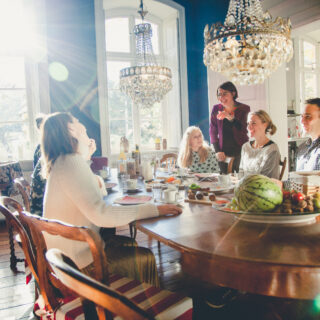 The Blue Salon
The Blue Salon connects the manor house kitchen and the Great Hall and offers comfortable seating for ten people at the table. Guests who order breakfast like to eat it here – unless of course the sun is shining, in which case we usually take our trays out into the garden.
The Blue Salon also has a fireplace, so cosy autumn evenings or a warm place to get comfortable on stormy days in February are guaranteed.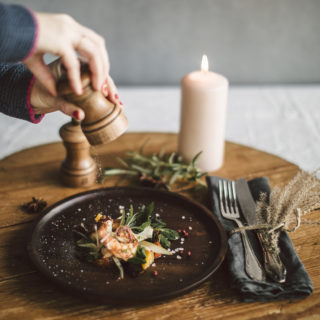 Catering
We are happy to recommend regional catering, which we know and love. So Bluhm's Delikat cooks with seasonal products and creative hand for occasions such as weddings, family celebrations and corporate events.