Make our house

your home
Are you looking for the right location for a family celebration, wedding or weekend with friends? Looking to escape the day-to-day and tap into the creative potential of your team together with your colleagues? You can rent the entire manor for a meeting or special celebration.
The manor is around 200 years old and offers ample space for a relaxing and productive break in Mecklenburg-Vorpommern. Spread over 1000 m², the house has 30 beds in 17 rooms (7 Apartments) and a 10,000 m² park-like garden. Write to us and let us help you plan the perfect meeting, wedding or party!
Common area floor plans:
We are easily accessible by car and train from Berlin, Hamburg and Rostock. We are happy to help you plan your arrival and departure travel.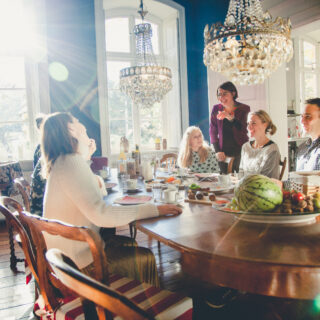 The Blue Salon
The Blue Salon connects the manor house kitchen and the Great Hall and offers comfortable seating for ten people at the table. Guests who order breakfast like to eat it here – unless of course the sun is shining, in which case we usually take our trays out into the garden.
The Blue Salon also has a fireplace, so cosy autumn evenings or a warm place to get comfortable on stormy days in February are guaranteed.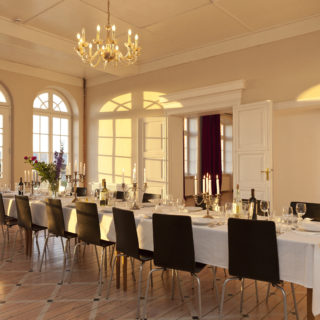 The Foyer
Our foyer is the entrance area of the manor. And as such, it is the hub of the house. This beautiful large room with its huge windows is often used as a central meeting point. Sometimes it is used for family celebrations, where we can set a table for up to 50 people. This works especially well if you want to use the Great Hall for dancing.
The windows at the front of the foyer offer a beautiful, broad view over the plains.
The Great Hall
Sometimes it doesn't take much for a lot to happen: Our Great Hall only contains the essentials so that you can set up the room just as you need it. Elegant oak parquet flooring, a projector on the ceiling, roll-out screen – the rest can be freely arranged on 70 m².
For events with dancing we roll large speakers into the hall, for conferences we can arrange the chairs and tables as needed. We can also set up a circle of chairs or even yoga mats.
Our kitchen
There are many kitchens in the manor – but this one is the heart of the house. Whether for breakfast or a cooking event in the evening: the manor house kitchen can handle it all.
A gas stove with six flames and, of course, a large coffee machine, teapots and juice extractor – the most important appliances and tools are all available.
Rent a bike
For large and small bike tours we can rent you just the right bike. In the hills of Mecklenburg Switzerland many (even those under 40) are avid e-bike riders, especially if it is going to be a somewhat longer route, such as a trip through the forest to Salem at Kummerower See. But we also have comfortable touring bikes, racing bikes, mountain bikes, children's bikes and a bike trailer for two kids (Chariot) which we are happy to rent you.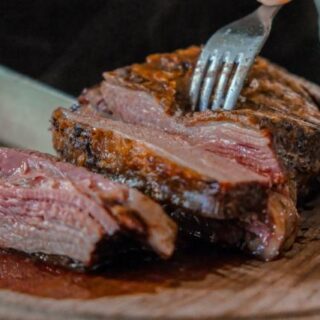 Delicious game!
Cook, dine and enjoy with your colleagues or with friends. Together with at least five other guests you can prepare a three-course menu based on the theme "Game cuisine, pan-fried and braised game". Robert Bluhm, the chef de cuisine at "Fischers Küche" in Waren an der Müritz will be your guide.
Birdwatching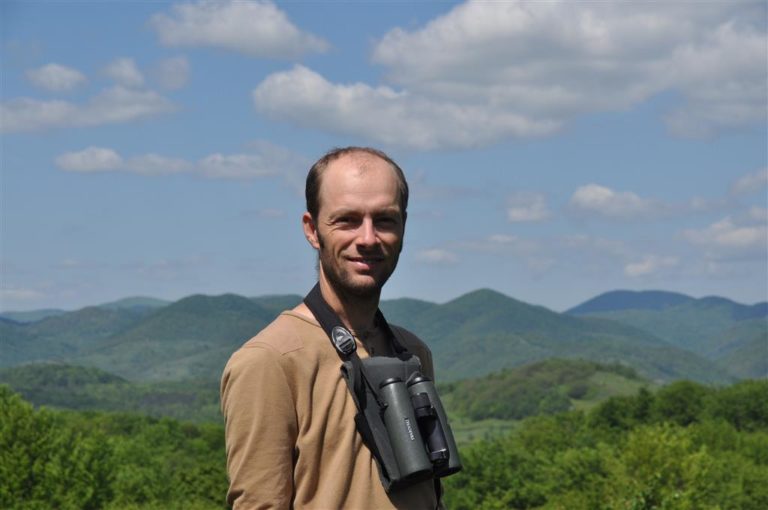 A very special nature experience is to dive into the forest and meadows with the experienced nature guide Dr. Peter Meffert and explore the bird world. He is a biologist and, as a doctor of ornithology, a proven expert on the local birdlife.
The classics are the following three guided tours. But individual focuses are also possible. Simply contact us.
Birdsong in the Manor Park
Who flutes, trills and warbles in our estate park? We can make many amazing and beautiful encounters right on our doorstep!
Bird walk through field and forest
The rich nature of Mecklenburg invites you to observe osprey, white-tailed eagle, crane and many lesser-known treasures of our bird world.
Waterfowl safari to the Great Rosin
The flooded polders of the Great Rosin at Lake Kummerow are a refuge for countless water birds such as kingfishers, terns and white-tailed eagles.

Rest and refuel
The expanse of the surrounding nature, the spacious and quiet rooms make the estate the perfect place for a relaxing break. Visit us for an extended weekend at Gut Pohnstorf. We cooperate with a yoga teacher and a chef and regularly offer weekends where you can treat yourself to some self-care: with two Vinyasa Yoga sessions a day, a vegetarian cooking class and time connecting with nature.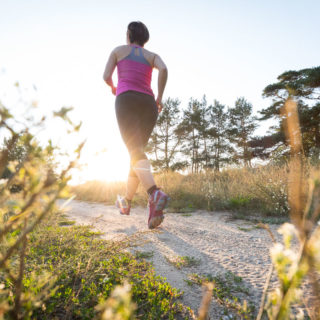 Run well
There are a variety of jogging routes that start directly at the manor and either cross through the meadows and woods or follow farm paths.
Fabian's favorite route goes up about 210 meters over 10 km and offers a variety of beautiful views. You can find it here (including GPX and TCX).
Kamila's favorite route goes up about 90 meters over 5 km and runs through the forest and between the fields. You can find it here (including GPX and TCX).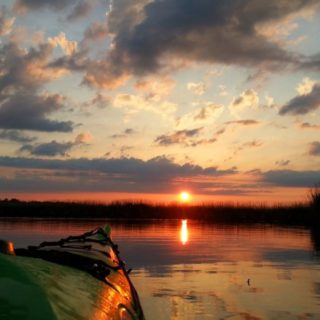 Paddling and Canoeing
A fantastic paddling area is just waiting to be discovered nearby. The Peene is one of the last big natural rivers in Germany. The area around the river offers a great variety of species: you can see many birds and with a little luck maybe even a few beavers.
The canoe station in Verchen is a little further away. But from there you can paddle right up to the north of the Peene River. Evening beaver tours by electric boat are also on offer and are highly recommended! It is essential to book in advance and don't forget to bring a sweater, even in the summer, as it gets cold on the water in the evenings.
Canoe station in Verchen
The canoe base in Salem can be easily reached by bicycle through the forest.
Canoe base in Salem