Well

nourished
Whether your goal is to leave all your cares behind or get your creative juices flowing, you don't want to be distracted by a growling stomach. Start the day with a delicious breakfast with products from our garden and the surrounding area.
Then it's up to you: Would you rather cook for yourself? Then our fully equipped manor kitchen is at your disposal. We will be happy to supply you with a box of local, organic ingredients for the duration of your stay.
Or you can catch your own dinner in the neighborhood trout pond.
You prefer not to cook? We have a list of local restaurant options we are happy to provide you with.
Of course we can also organise high-quality and delicious catering for your party, event or workshop.
And then there is of course the Gutshauscafé just next door, which offers delicious coffee and cake for relaxing afternoon hours.
Frühstücksbuffett
Gerne bereiten wir Ihnen ein Frühstück in der Gutshausküche zu. Gegessen wird dann häufig im Blauen Salon. Aber Sie können sich das Essen natürlich auch mit in Ihre Wohnung nehmen. Und im Garten finden sich auch hinreichend Stühle und Tische für ein Frühstück im Grünen.
Insbesondere bei Gemüse, Eiern und Fleisch achten wir darauf, dass die Zutaten überwiegend regional sind.

Delicious game!
Cook, dine and enjoy with your colleagues or with friends. Together with at least five other guests you can prepare a three-course menu based on the theme "Game cuisine, pan-fried and braised game". Robert Bluhm, the chef de cuisine at "Fischers Küche" in Waren an der Müritz will be your guide.

Organic farm box
Order an organic farm box with all the fresh and delicious things the region has to offer this season and prepare your own personal Mecklenburg menu in your own kitchen or in the kitchen of the manor house.

Meet the chickens
Want to thank the chicken personally for that delicious egg at breakfast? Just a few minutes down the road you can stop by and meet the chickens that supply us with fresh eggs every day.
Pond to plate
Fresh trout, just the way you like it: Either akready gutted and cleaned in your refrigerator or still in the pond for you to catch yourself.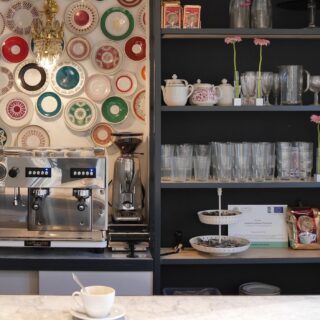 Café und Kuchen direkt nebenan
Das zauberhafte Café am Gutshaus Pohnstorf befindet sich in einem ehemaligen Wirtschaftsgebäude gleich neben dem Gutshaus. Hier verwöhnt Sie Stefanie McBride und ihr Team mit raffinierten Törtchen, fruchtigem Kuchen und italienischem Kaffee.