Be

well
The first thing you'll notice at Pohnstorf is all the space. But the Mecklenburgische Schweiz has so much more than you see at first glance. Let us help you plan your stay!
Coffee and Cake - Directly next door
The enchanting Café is located in a former farm building right next to the manor house. The café-team will nourish you with refined cupcakes, fruity cakes and Italian coffee.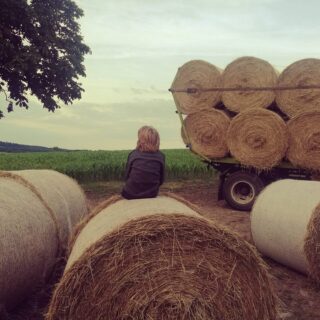 Call of the wild
Bathing, biking, hiking, bird-watching, hunting – or what do YOU do on Saturday morning at 5 am?
Outdoor fans get their money's worth at any time of the day and throughout the entire year. That's a promise!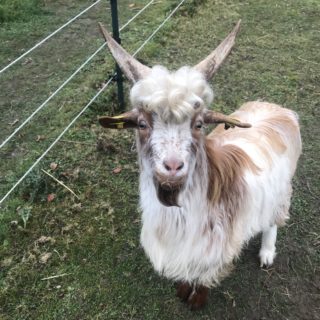 Animal Park Lelkendorf
For adults and children a visit to the animal park Lelkendorf is a lovely way to spend an afternoon. From Pohnstorf we recommend taking the bike. The park can only be reached in less than an hour on side paths across the fields. The park has a small restaurant for some refreshments before heading back.
Golf club Teschow
You can reach golf club Teschow within 15 minutes by bicycle.
Nur 15 Minuten mit dem Fahrrad entfernt ist der Golfclub Teschow. On 110 hectares, it offers an 18-hole course and a 9-hole course suitable for beginners. Enjoy relaxed golfing in the gently rolling foothills of Mecklenburg Switzerland.
A walk with alpacas
Some alpacas are living in Pohnstorf and you can walk with them across the meadows and fields. The tour lasts two hours and is suitable for young and old.
Adults 20 €, children 10 €, families 50 €, groups 180 €.
Marco Wenzlaff: +49 (0) 381 / 87 72 97 59
Birdwatching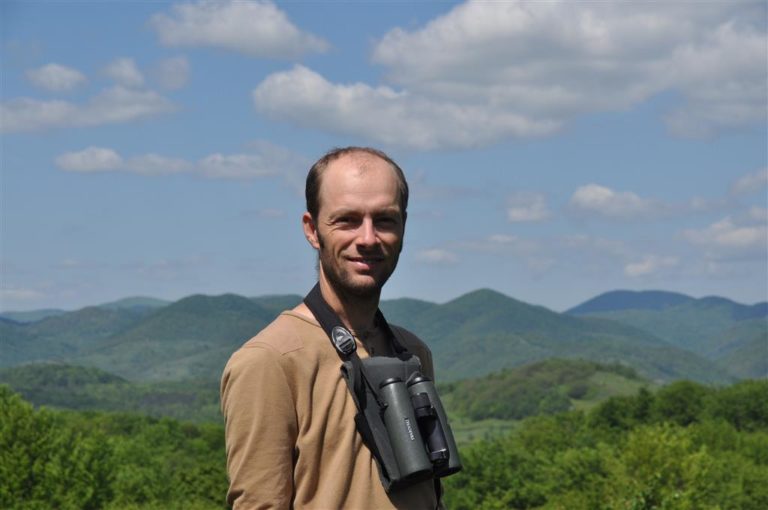 A very special nature experience is to dive into the forest and meadows with the experienced nature guide Dr. Peter Meffert and explore the bird world. He is a biologist and, as a doctor of ornithology, a proven expert on the local birdlife.
The classics are the following three guided tours. But individual focuses are also possible. Simply contact us.
Birdsong in the Manor Park
Who flutes, trills and warbles in our estate park? We can make many amazing and beautiful encounters right on our doorstep!
Bird walk through field and forest
The rich nature of Mecklenburg invites you to observe osprey, white-tailed eagle, crane and many lesser-known treasures of our bird world.
Waterfowl safari to the Great Rosin
The flooded polders of the Great Rosin at Lake Kummerow are a refuge for countless water birds such as kingfishers, terns and white-tailed eagles.
Rent a bike
For large and small bike tours we can rent you just the right bike. In the hills of Mecklenburg Switzerland many (even those under 40) are avid e-bike riders, especially if it is going to be a somewhat longer route, such as a trip through the forest to Salem at Kummerower See. But we also have comfortable touring bikes, racing bikes, mountain bikes, children's bikes and a bike trailer for two kids (Chariot) which we are happy to rent you.
Ride well
Whether gravel bike, racing bike, mountain bike or touring bike – it's worth it. We rent sport bikes (mountain bikes and racing bikes) or take your bike with you from the train station. Our hilly surroundings offer mountain bikers a lovely challenge.
Our trails are made by fox and deer, not the other bikers.
For the road bikers among us, there are well maintained asphalt paths between the fields and many other roads with very little traffic. The track of the
Mecklenburger Seen Runde
(MSR) runs close by.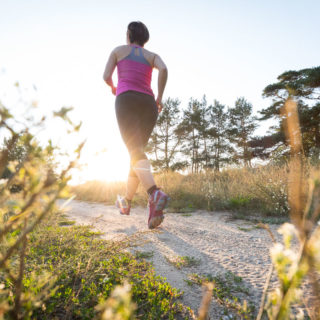 Run well
There are a variety of jogging routes that start directly at the manor and either cross through the meadows and woods or follow farm paths.
Fabian's favorite route goes up about 210 meters over 10 km and offers a variety of beautiful views. You can find it here (including GPX and TCX).
Kamila's favorite route goes up about 90 meters over 5 km and runs through the forest and between the fields. You can find it here (including GPX and TCX).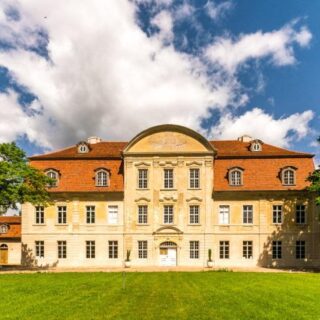 Kummerow castle
The castle in Kummerow is carefully and tastefully renovated. You can see the traces of the past, including the more recent GDR past. The permanent exhibition (photography) has a focus on photographs from the GDR. In addition, there are regularly interesting concerts and exhibitions.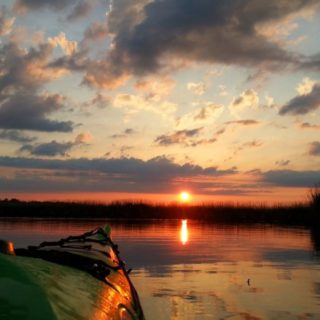 Paddling and Canoeing
A fantastic paddling area is just waiting to be discovered nearby. The Peene is one of the last big natural rivers in Germany. The area around the river offers a great variety of species: you can see many birds and with a little luck maybe even a few beavers.
The canoe station in Verchen is a little further away. But from there you can paddle right up to the north of the Peene River. Evening beaver tours by electric boat are also on offer and are highly recommended! It is essential to book in advance and don't forget to bring a sweater, even in the summer, as it gets cold on the water in the evenings.
Canoe station in Verchen
The canoe base in Salem can be easily reached by bicycle through the forest.
Canoe base in Salem
Ivenacker Oaks
In Ivenack there are ancient English oaks in a former hute forest. You can not only walk through the park and take a break in a nice café, but also use a tree top walk. The park is worth a trip.
Culture
Current events for culture and art near by, you will find here.
Pond to plate
Fresh trout, just the way you like it: Either akready gutted and cleaned in your refrigerator or still in the pond for you to catch yourself.
Hiding places
In our park everyone is guaranteed to find a favourite corner – but not every favourite corner is easy to find! Lose yourself in 10,000 square meters of park-like garden with beautiful old trees, fruit trees, terraces and a boules court.
Living well with art
The art of living – for us this clearly includes art. We are honored  that the artist Lothar Oertel feels connected to us and the house. We are proud that his works decorate our walls and that we are able to welcome him from time to time for workshops for guests of all ages.
Meet the chickens
Want to thank the chicken personally for that delicious egg at breakfast? Just a few minutes down the road you can stop by and meet the chickens that supply us with fresh eggs every day.
To friends and family
Family celebrations or quality time with friends – relax and savor the moments at Gut Pohnstorf. With plenty of time and space for old and new stories and experiences, togetherness and – if necessary – retreat.
Sternenhimmel
Geführte Sternenbeobachtung:
Du liegst inmitten der Natur und schaust entspannt in den Nachthimmel. Der Alltag ist gefühlt Lichtjahre entfernt, endlich kommst Du zur Ruhe. Sanft erklingt Musik. Dann nimmt Dich eine warme Stimme mit auf Deine persönliche Reise zu den Sternen. Sie erzählt zum Beispiel vom großen Wagen. Wusstest Du, dass er nur Teil eines größeren Sternbilds ist, nämlich der großen Bärin? Beim Lauschen erfährst Du nicht nur jede Menge. Du kannst Dich in der Weite des Sternenhimmels förmlich verlieren – völlig losgelöst.
25 Minuten Hörspiel – Erhältlich auf Gut Pohnstorf. (5€ pro Gerät)
Warum in Pohnstorf? 
Pohnstorf gehört durch die geringe Lichtverschmutzung zu den dunkelsten Orten im Innenland. Sternenbilder sind in Pohnstorf deutlich und klar zu erkennen. Die Milchstraße ist gut sichtbar, wie kaum woanders in Deutschland. 
Tango Workshops
Dancing, eating and drinking – enjoying life together and celebrating the Tango.
We will be happy to inform you about the next event. Just write us a short e-mail.